Skip to Content
Get Cosmetic Dentistry in Germantown, TN
One of the most important parts of your appearance is your smile. You should be able to smile confidently, and Christopher Cooley DDS will help you regain bright, beautiful teeth with our cosmetic dentistry. Our team of caring dental professionals has helped patients throughout Germantown, TN for years with our dental services. We offer teeth whitening, smile makeovers, and many other teeth beautifying treatments. If you're interested in our comprehensive selection of cosmetic procedures for your own mouth, reach out to us to schedule an appointment.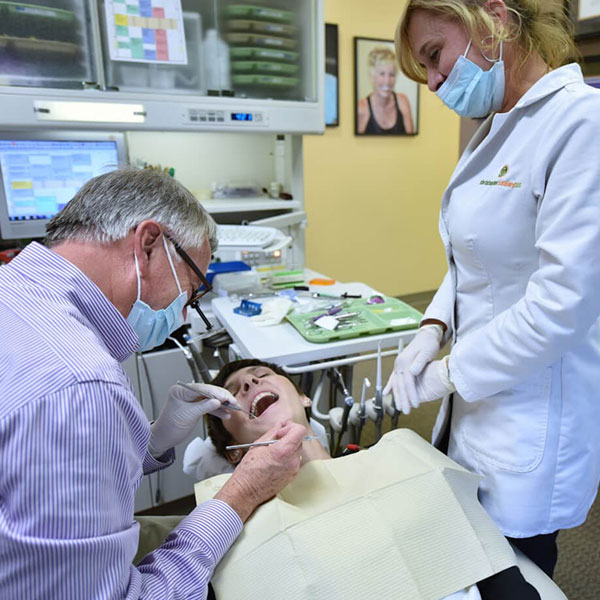 Cosmetic Options for Patients
Our dental office offers a variety of dental aesthetic services to help you regain a beautiful smile. We designed the list of teeth enhancing treatments to give you a whiter, brighter smile that you can show off. At Christopher Cooley DDS, you can take advantage of any of our following options for cosmetic dentistry. Our cosmetic dentistry services include Invisalign® clear aligners and porcelain veneers in addition to the following:
Smile Makeovers
If your mouth suffers from decay or other damage, we'll create a treatment plan with procedures such as crowns, bridges, implants, and whitening to optimize your teeth's appearance and function.
Tooth Whitening Options
Nothing beats the stellar results of professional in-office tooth whitening. We'll determine your desired shade and remove years of staining and discoloration.
Learn More
Porcelain Crowns / Inlays and Onlays
Porcelain crowns are individual restorations that fully cover your tooth. Crowns fit upon your natural tooth, covering all of its surfaces and restoring its functionality. We create porcelain crowns that are matched in size, shape, and color to your smile, so they are indistinguishable from your adjacent natural teeth. Inlays and onlays are smaller restorations than crowns that restore the bite surface of a patient's tooth. Sometimes called indirect fillings, these restorations are made in a laboratory to fit snugly within your smile.
Bonding
Using tooth-colored composite material, we'll reshape your tooth or cover stains to restore your teeth's function and appearance. Issues such as cracks, chips, and discoloration are all solvable with bonding.
Tooth-Colored Fillings
Cavities don't have to destroy your perfect smile. After we remove the affected tissue and clean the area, we'll fill the space with a tooth-colored material to seal out further decay, and it blends with the rest of your mouth.
Laser Gum Reshaping
Excess or uneven gum tissue can taint the appearance of an otherwise beautiful smile. Using laser gum reshaping, we remove excess tissue for patients with gummy smiles and recontour an asymmetrical gum line. Because we use a precision laser, we can very conservatively remove your tissues until your gums are even and beautiful. Laser tools cauterize your gums immediately so you will have very minimal, if any, bleeding following treatment and shortened healing time compared with a traditional metal blade reshaping. This treatment is often done in conjunction with teeth whitening or porcelain veneer placement for a more dramatic cosmetic improvement.
Schedule Cosmetic Service for Your Smile
Christopher Cooley DDS is ready to help you boost your smile's appearance. Get the smile you've always wanted with cosmetic dentistry performed by our talented and caring team of dental specialists. If you've been self-conscious about gaps or missing teeth in your smile and you're looking for a reliable fix, don't hesitate to give us a call and schedule an appointment. Reach out to our office by calling 901-754-3117 at your earliest convenience!