Skip to Content
Smile Restoration with Dental Bridges
Dental bridges are a common type of restoration that replaces one or more consecutive missing teeth. Our doctors are skilled restorative dentists who offer both traditional and implant-supported bridges for their patients. We use porcelain and other high-quality materials to create bridges that are durable and complement each patient. If you are missing teeth, a dental bridge will restore the look and function of your smile so you can speak and eat with confidence again. To learn more about dental bridges, contact our Germantown and Memphis area, office today.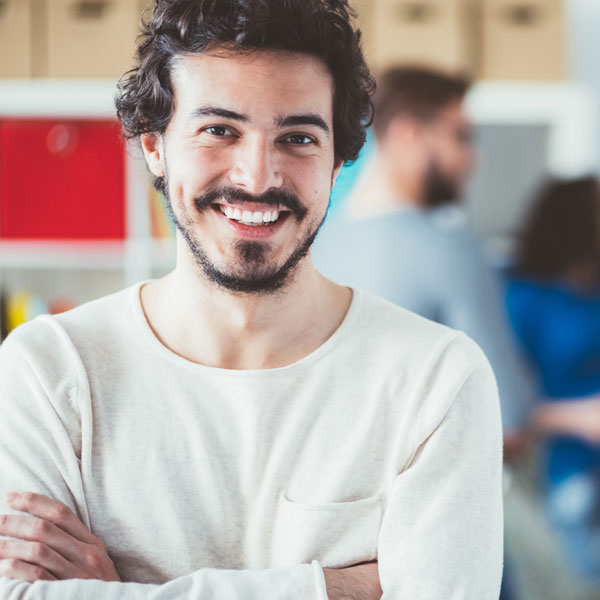 Creating a Custom Dental Bridge
When you come to our office, our doctors will perform a comprehensive examination of your teeth, gums, and jaw. You may be a good candidate for a bridge if you are missing one or more teeth or have severe decay or infection. If we determine that your tooth has become too damaged to be restored with a filling or crown, our dentists may recommend extraction. Depending on factors like your aesthetic goals and budget, we can determine which type of bridge is right for you.
Traditional Bridges
A traditional bridge is supported by specialized crowns placed on either side of the gap in your smile. Before your traditional bridge can be placed, we will prepare your natural teeth, removing a small amount of enamel to accommodate the crowns. Our team will provide you with a temporary bridge to wear while your permanent one is created from impressions of your bite and detailed notes on the aesthetics of your smile. Once your permanent bridge has been created, our doctors will place your crowns and cement the entire restoration in place. Your traditional bridge will stay in place day and night. You can clean your bridge just like your natural teeth, brushing at least twice a day and flossing daily. In some cases, we can remove your bridge at your biannual visits for additional cleaning.
Implant-Supported Bridges
Implant-supported bridges are supported by two or more dental implants. Unlike traditional bridges, implant-supported bridges do not require support from your adjacent natural teeth. Instead, we will create a dental bridge that fits snugly upon metal posts that are surgically embedded in your jaw.
Implant-supported bridges offer a wealth of benefits. They are exceptionally stable and retain the healthy structure of your natural teeth. Dental implants also stimulate your jaw bone, which prevents it from deteriorating (a common condition resulting from tooth loss).
Dental Bridge Materials
We use high-quality porcelain for our patients? dental bridges. Porcelain has many advantages over other dental materials, including:
Aesthetics
Porcelain looks remarkably similar to natural tooth enamel. It shares the same translucency and is virtually indistinguishable from adjacent natural teeth.
Long-lasting Brilliance
Porcelain is highly resistant to staining, even more than natural tooth enamel.
Biocompatible
Porcelain is completely safe for your body.
Strength
Porcelain is very strong and resistant to cracks and chips. With proper care, your bridge can last for many years.
Lifelike
Your porcelain bridge can be matched in size, shape, and color with your adjacent natural teeth for a seamless appearance.
There is no need to live with the effects of missing teeth. For expert dental care, give us a call and schedule an appointment. Reach out to our office by calling 901-754-3117 at your earliest convenience!