Skip to Content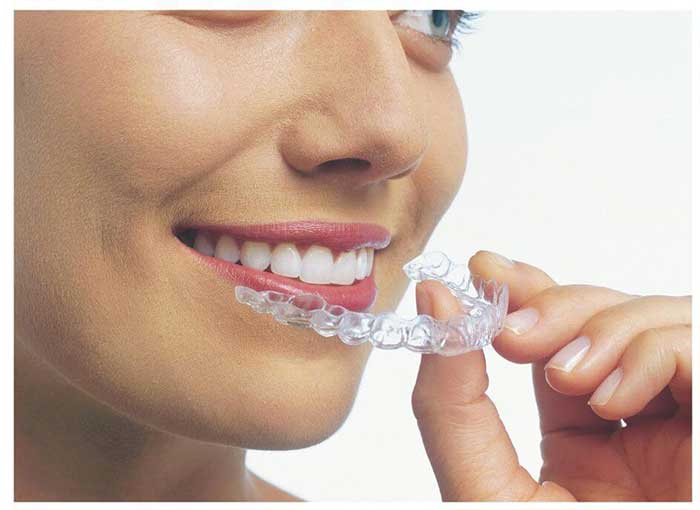 Orthodontics may have made huge strides in making braces less noticeable, but many people still do not care for the looks of brackets and wires. And even though they are smaller than they have ever been before, teens and adults still often hesitate in going through treatment with them. The good news is there is an even less noticeable alternative to braces!
Here at Cooley DDS, we offer Invisalign aligners as a less noticeable orthodontic treatment. The Invisalign system consists of clear, plastic aligners that provide an easy and nearly invisible way to straighten your teeth without the need for metal wires and brackets. This is a great solution to adults or teens who want to have a straighter smile but are self-conscious about the thought of wearing braces. You may have heard about Invisalign before, but you might not be totally sure how it works or the benefits of using Invisalign over braces. We've put together this guide to Invisalign and how it could be the right choice for you.
What Is The Invisalign System?
Invisalign uses a series of clear, plastic aligners that straighten your teeth with minimum visibility. They look like plastic teeth molds and the design is so simple, you may find yourself wondering how you'll ever achieve the look that braces can give! These trays are made with a special thermoplastic resin that?s surprisingly strong enough to move your teeth into new positions. If instructions are followed closely, like wearing them the recommended 20-22 hours a day, then treatment time can be finished at the same time as braces, and usually even sooner!
A lot of our patients love the Invisalign system we offer at Cooley DDS because of all the benefits this treatment has over traditional braces. Let's take a look at some of those benefits!
They? Re Practically Invisible
This is one of the biggest advantages of Invisalign over braces. A lot of patients have self-confidence issues when it comes to wearing braces, and it's a big factor in teens and adults opting out of treatment. That?s why these aligners were designed with both adults and teens in mind. The fact that they are invisible is practically the biggest selling factor about them! It's a perfect solution for working professionals or self-conscious teens.
They? Re Removable
One of the downsides to braces is they're constantly on from the minute you get them to the minute they come off. Luckily, Invisalign isn't something that has to be worn 24/7! Since they are clear aligners, they have to be removed for eating and brushing your teeth, and this has plenty of advantages in of itself! These aligners are meant to be worn for 20-22 hours a day, which means that they can be taken out for a few hours during the day. With Invisalign, you don't have to forfeit your favorite foods for fear that you?ll, break the brackets and wires on braces. Not to mention brushing and flossing are much easier since there is no appliance to maneuver around. This is a huge advantage because your teeth and gums will be healthier since you're able to take better care of them than you could with braces, and you don't have to worry about staining from the brackets. You can even take them out for pictures or a special event, but just remember that the longer you leave them out, the longer the treatment will take!
Protects Your Teeth and Gums
Braces can be hard on a patient?s mouth. There are plenty of potential problems that come with braces that can make your mouth uncomfortable. The brackets can rub against the inside of your cheek and the wire can sometimes pop out of place causing it to poke your cheeks and gums until you get the chance to fix it! Since Invisalign is a completely plastic appliance, there?s none of the pain that comes with braces.
Faster Treatment
?Unlike metal braces, there is less of an opportunity for a clear aligner to break. With braces, you run the risk of emergencies like a bracket coming loose or falling off or a wire poking out of place. Because these things need fixing, treatment can take longer because a broken bracket isn't going to do its job very well! Invisalign needs no adjusting and since you are able to take them out to eat, there?s much less of a chance to break the aligner.
Self-Confidence Booster
It can be hard to feel confident while wearing metal braces. Invisalign wearers just don't have the same complaints as those with braces. We've watched patients grow more confident as they see their smiles improve with each visit.
If you?re dreading the idea of getting braces, get in touch with us at Cooley DDS to talk to us about Invisalign. We'll help give you the straighter smile you? ve been waiting for without the metal mouth. Stop by our office in Germantown or give us a call at 901-754-3117.