Skip to Content
Using Implants for Tooth Replacements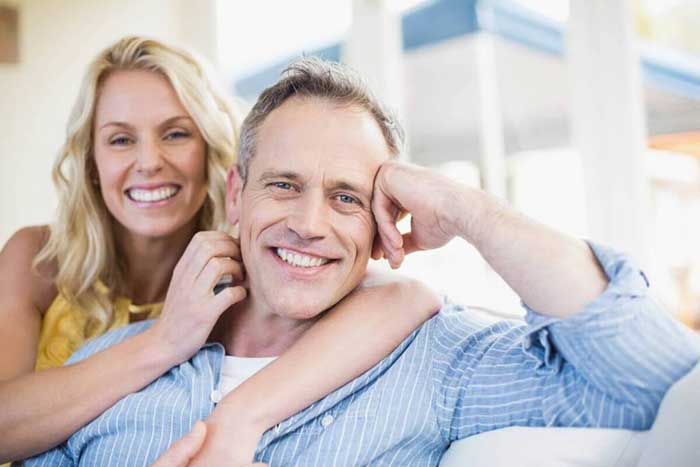 Are you or is someone you know missing a tooth? There?s no reason to feel bad about it because of you? re not alone. In fact, you? re far from it. It's estimated that there are more than 178 million Americans are missing a tooth, and of that number, about 40 million Americans are missing all of their teeth.
With tooth loss so common, it is important that a person is aware of the options available to them if they find themselves in that situation. While most people have known someone to wear dentures, the truth is that the ideal solution can be much more simple: a dental implant.
What Is a Dental Implant?
Dental implants get their names because they involve the placement of an artificial tooth root within the jawbone. After the root has been implanted, it is covered up with a replacement tooth that looks natural too. Because an implant has an artificial root, it will allow the replacement tooth to function more like the real thing.
Advantages of Choosing Dental Implants
Don't let the name ? dental implant? intimidate you. They actually offer several advantages over other treatment options. Unlike dentures, which frequently have to be taken out, cleaned and taken care of, then reapplied using an adhesive, with a dental implant there is no need. A dental implant is a more permanent answer for tooth loss. They can last a lifetime if they are cared for.
One would also have a hard time telling the difference between a dental implant and a natural tooth, so there is no concern with feeling uncomfortable with the way they look. But not only do they look like your real teeth? they function like the real thing as well, so you can eat the foods that you want to eat without worrying about your teeth holding up.
Another convenience of a dental implant is that it does?t interfere with the way you conduct your oral hygiene. While other solutions can complicate oral hygiene, dental implants are cared for in the same way that you care for your real teeth: just brush and floss daily the way you normally would!
Did you know that when you lose teeth, it can cause your jawbone to deteriorate? Over time, this can make your face appear sunken. Since a dental implant acts as a tooth root, it stimulates your jawbone and promotes bone growth. As a result, you are able to maintain the natural shape of your face and jaw.
Another reason dental implants are one of the most convenient treatment options for those who are missing a tooth is that, unlike a dental bridge, a dental implant leaves your other teeth alone. Dental bridges might require that your other healthy teeth are ground down in order to support the dental bridge. Meanwhile, an implant replaces the tooth that you have lost but does?t necessitate an alteration to any of your healthy ones.
In Good Company
With so many ways in which a dental implant is convenient, it is easy to see why it is today's preferred method for dealing with tooth loss. Check out some facts and figures on dental implants put together by the? American Academy of Implant Dentistry:
3 Million people in the United States have dental implants, a number that is increasing by more than 500,000 per year.
Only 10 percent of all dentists in the United States place implants, although the number is increasing each year.
The market for dental implants in the United States and Europe is expected to reach an estimated $4.2 billion by 2022.
Scientific literature has reported the success rate of dental implants at as high as 98 percent.
Taking Care of Your Dental Implants
Once a patient has had a dental implant procedure, one of the questions we are most often asked is how they are to take care of it. The answer is surprisingly simple and might surprise you. Taking care of a dental implant is very similar to taking care of the rest of your teeth.
You should brush and floss your teeth twice a day, and cleaning your teeth is especially important after you? ve ate. Gently brush, giving attention to all sides of the implant. Using additional supplies such as mouth wash can be beneficial as well.
While it is important to take responsibility for your dental hygiene at home, it is of equal importance to regularly schedule a visit to your dentist for a professional exam and cleaning.
If you? re struggling with the loss of a tooth, we invite you to give us a call at 901-754-3117.?Dr. Cooley and? the rest of our office staff? are dedicated to doing everything possible to make each and every visit? our office? delightful for our patients. Schedule today for a comfortable visit? our Germantown, TN office.