Skip to Content
Baby's First Dental Visit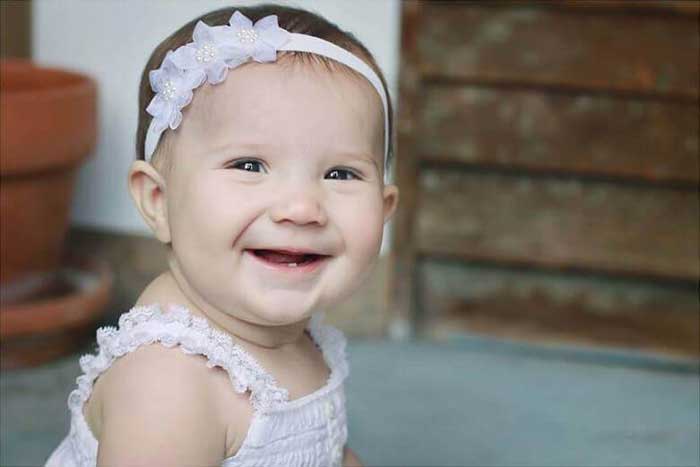 One of the questions we hear most often from parents here at Christopher Cooley DDS and Diane Flexsenhar DDS is "When should children first see a dentist?" The American Dental Association and the American Academy of Pediatric Dentistry both recommend that a child?s first dental visit should occur no later than the first birthday, and we agree!
Such an early dental visit may seem surprising, but in recent years, studies have shown that preschool-aged children are getting more cavities than ever before, with more than 1 in 4 having at least one cavity by the age of four. Many children will even develop cavities as early as the age of two.
Seeing a dentist by the age of one, however, is the short answer. Tooth decay can occur as soon as your child's first tooth erupts, and decay in primary teeth can mean a higher risk for decay in the permanent teeth. Severe tooth decay can actually affect your child's overall health.
Wondering what else you should be aware of when considering your baby's first dental visit? Let's take a look!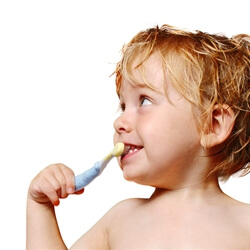 Beyond Cavities
As prevalent as cavities may be these days, they aren't all parents need to know on the subject of their child?s dental health. The purpose of the first dental visit is to learn about your child's oral health, and how to best care for any unique dental needs present before problems can occur. Many dental problems can be prevented, or more easily treated if caught in the earliest stages, so it?s important to know what to look for and what you should expect.
This First Visit Is in Many Ways Comparable to a Well-Baby Check at the Pediatrician? S Office. You Can Expect the Dentist
review your child's medical history
respond to any questions and concerns you may have
talk with you about your child's overall oral health, including development, teething, their bite, the soft tissues of the gums and cheeks, and oral habits like thumb-sucking.
risk factors for cavities, such as their diet, hygiene, fluoride use, and family history
how to prevent trauma to your child's mouth
You can prepare for this visit by considering what you'd like to ask or talk about with the dentist before the actual appointment. Common subjects discussed at this visit are:
how to care for a young child?s mouth
proper use of fluoride
oral habits, including finger and thumb sucking, as well as pacifier use
ways to prevent the kinds of accidents that could damage the face and teeth
teething and milestones of development
the link between diet and oral health
During the appointment, the dentist or hygienist may clean your child's teeth or apply fluoride, particularly if your child has a higher than average risk of developing cavities at a young age.
After your child's first visit is complete, the dentist will usually suggest a schedule of follow-up visits. Traditionally, dentists have scheduled check-ups every six months, but many offices will now vary that schedule according to the needs of the patient.
It's important that you find a dentist you trust and an office where you feel comfortable! This will be your child's "home base" for dental care, a place they?ll visit year after year. You'll want a dentist like Dr. Cooley or Dr. Flexsenhar, one who prioritizes your child's specific needs in order to provide the best care.
Choosing a Dentist for Your Child
In finding a dentist who is familiar with and comfortable treating infants and toddlers, you?ll want to look for one who is:
both child and parent-friendly
knowledgeable about the oral health, growth, and development of young children
responsive to you
gentle and patient with your child, even if your child is uncooperative!
focused on your child's specific needs
clear about how to care for your child's mouth and teeth, and willing to show you how to do it if needed
able to be reached in case of an accident or dental emergency
open to give specific advice about regular follow-up care, and what the next step will be in your child's oral development
Before leaving the office, you should have all your questions answered, and know what you and your dentist can do together to make sure your child is being set up for a lifetime of excellent oral health.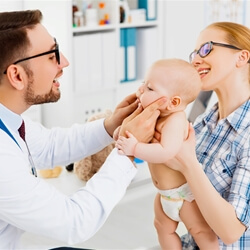 Tips for a Positive Experience All-Around
We don't want anyone to dread a dentist visit, young or old! Here are some things you can do to ensure both you and your baby have a positive experience.
Schedule your child's first visit between the arrival of their first tooth and before their first birthday.
Try to schedule their appointment for the time of day when they're at their most rested and cooperative.
Don't panic! Many adults have a great deal of anxiety about visiting the dentist, and children, even very young ones, can pick up on that. We? re here to help keep your child's teeth healthy, so try to keep your tone and your words positive for your baby's benefit.
Do your best to make your child's dental visit an enjoyable outing. Teaching them good oral hygiene habits early on sets the stage for the years to come, and regular dental visits are a big part of that!
Your Child's First Dental Visit at Christopher Cooley DDS and Diane Flexsenhar DDS
If you? re looking for a 5-star dental service for your family in Memphis and the surrounding areas, let Christopher Cooley DDS and Diane Flexsenhar DDS be your first stop! We have an experienced, talented team devoted to providing the highest quality care in a pleasant, relaxing environment.
Do you have a child ready for their first dental visit? Get in touch with us today to schedule an appointment, and let us work with you to keep your baby's beautiful smile as healthy and happy as it can be!